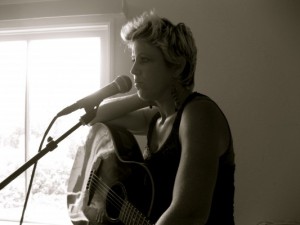 Dave Curtis, Deblois Milledge, Danny Campbell
The Boundary Birds sound like what they are; a tight trio making music together often and for the love of it, balancing the original compositions of the group and the building blocks of american music, and trying to reach both inside and out. This tenacious band of players has been working together since 2005, but separately each has traveled their own musical road, which has led them to this simple trio, a few great songs and a recording studio in a country cottage in Oceanside, California.
The lead vocalist, Deblois Milledge, has had an impressive music career on her own before forming the group. Her are her two album releases:
Here's the video EPK for the group:

Here's the previous EPK for Deblois
With a voice that has been described as "sexy", "seductive", and "husky" while remaining "angelic", Deblois creates a unique style that transcends known genres. In Someone Like That, a cut from her debut CD, Leviathan, Deblois sings "oh I . . . wanna be … someone like that . . . for you.." Well, if she desires to be someone who can transport you from the humdrum of ordinary existence into a relaxing bar on a tropical beach with your favorite drink and a warm ocean breeze in your hair . . . well, she certainly is "someone like that . . for you!" Listening to Deblois is like being at the beach. Her rhythms are as comforting and compelling as the sounds of the ocean waves she knows so well.
Previously Based in Miami, Florida, but spending much time in Coasta Rica pursuing her passions of surfing and music, Deblois has now settled in California, from where her and her new band members, Dave Curtis, and Danny Campbell. Generously sharing the feel of her natural lifestyle with us in her music, Deblois has been accused of singing with a passion that "bleeds through the speakers". Adam Brady of the Savannah Morning News says it best, "Soul meets song when Deblois takes the stage".
Her debut album, Leviathan, released in 2006, was followed by Velveteen in 2007. And . . . we have our eye on this girl! We love to see Indie artists make it really big and we see Really Big things in this artist's future. Regrettably, we can't say "you heard it here first". Deblois' music is available in most Indie stores and has many great reviews already. The DigitalMusicEye recently added her as the first Indie artist in their "Private Collection". You should do the same. You owe yourself the experience of this great music.